Hello and welcome to our new online take-away shop! You will find all of your favourite pub classics ready to order and enjoy at your place, from our kitchen to your table. Because staying in is the new going out…
The shop has been tested extensively, though it is a work in progress as we get up to speed with digital ordering. We therefore ask for your patience and understanding as we hone our skills in delivering this new online service. Some images used may be stock images or not representative of the dish you are ordering – we will be updated these images on a regular basis. Next stop home delivery!
If you have an feedback about the ordering process, we would love to hear from you. If you are having difficulties you may order and pay via the telephone: ☎️ 02 6752 4911
Take Away Available 7 days a week: 5pm – 8pm // Last order 7:30pm
* Meal options and prices may vary from day to day. We'll let you know via this channel or inquire via the telephone when ordering.
** In this evolving situation our ability to provide this service may change, subject to restrictions.
*** In the busy times we ask for your patience and understanding 🙌
**** Pick up only being taken via our drive thru.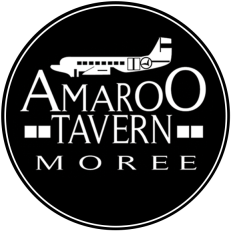 Family tavern, dog friendly, events & functions, live music, beer garden, pub food, wood-fired pizza, live sports.
While public gatherings, events and social functions are not an option at the moment, we do know we will one day be allowed to celebrate together. If you would like to enquire about a future event, or tentatively book a date, please contact us.
The Amaroo Tavern is temporarily closed due to COVID-19. Please check back in the coming weeks and months.




Amaroo Dr, Moree NSW 2400
P. (02) 6752 4911
E. info@amarootavern.com.au
Privacy Policy
Terms Of Use
Liquor License
We support the responsible service of alcohol and gaming practices.