Hello and welcome to our new online take-away shop! You will find all of your favourite pub classics ready to order and enjoy at your place, from our kitchen to your table.
If you have an feedback about the ordering process, we would love to hear from you. If you are having difficulties you may order and pay via the telephone:
☎️
 02 6752 4911
Lunch 11.30 am to 2:00 pm
Dinner 5.30 pm to 9:00 pm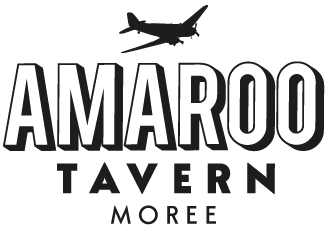 Family tavern, dog friendly, events & functions, live music, beer garden, pub food, wood-fired pizza, live sports.
The Amaroo Tavern is a community driven. Supporting, supplying and serving the best from our local neighbourhood.
The Amaroo Tavern opening hours may be impacted by COVID-19 restrictions.
Monday: 10am - 10pm
Tuesday: 10am - 10pm
Wednesday: 10am - 11pm 
Thursday: 10am - 11pm
Friday: 10am - Midnight
Saturday: 10am - Midnight
Sunday: 10am - 10pm




Amaroo Dr, Moree NSW 2400
P. (02) 6752 4911
E. info@amarootavern.com.au
Privacy Policy
Terms Of Use
Liquor License
We support the responsible service of alcohol and gaming practices.