Award-winning pub classics
Winner of several NSW Catering Association Awards, the Amaroo Tavern is your best choice in Moree for quality Steaks. Not to mention, our restaurant cooks up traditional pub favourites including Roasts, Schnitzels, Parmigiana, Pasta, Burgers and Salads. We almost forgot. We're most famously known for our woodfire pizzas! With a great selection including Margherita, Hawaiian, Meat Deluxe, and the Supreme.
Open every day for Lunch and Dinner, you can enjoy quality meals in the spacious Bistro or outdoors in the leafy Beer Garden.
Kids have their own menu to select from, featuring all the favourites including Chicken Nuggets and Fish pieces plus the classic Bangers n Mash!
Light Lunches including healthy Burgers, classic Steak Sandwiches, and fresh Salads can be served quickly if you are in a hurry.
If you have a larger appetite or more time to relax, make Lunch a bigger affair with one of our famous Steaks and a bottle of red!
Lunch 11.30 am to 2:30 pm
Dinner 5.00 pm to 9:00 pm
TAKE-AWAY MENU
 𝗧𝗔𝗞𝗘𝗔𝗪𝗔𝗬 & 𝗗𝗘𝗟𝗜𝗩𝗘𝗥𝗬 𝗙𝗢𝗢𝗗 𝗧𝗥𝗔𝗗𝗜𝗡𝗚🍔
Breakfast: Closed
Dinner: Nightly 5.00pm – 9.00pm
Last order: 8:30pm
Lunch: Daily 11:30am – 2:30pm
Last order: 2:00pm
BOTTLEMART DRIVE-THRU
Trading as normal
🚗 Pick-up from the Bottlemart Drive-Thru
All Main meals are served with chips, salad and your choice of sauce!
𝗠𝗮𝗶𝗻𝘀
Chicken Schnitzel $18
200gm Rump $16
Cheese Burger $15
Chicken Schnitzel Burger $15
Grilled or Battered Barramundi & Chips $19
Crumbed Lamb Cutlets (3) $25
Crumbed Steak $18
1kg American Beef Ribs $35
(Coated with our smoked BBQ sauce)
1 kg Chicken Wings $15
(Choose between hot sauce or smoked BBQ sauce)
Garlic dampers $8
𝗪𝗼𝗼𝗱-𝗙𝗶𝗿𝗲𝗱 𝗣𝗶𝘇𝘇𝗮𝘀
Hawaiian $13
Pepperoni $16
Meat deluxe $18
Supreme $18
BREAKFAST MENU
Available Daily -7am to 11am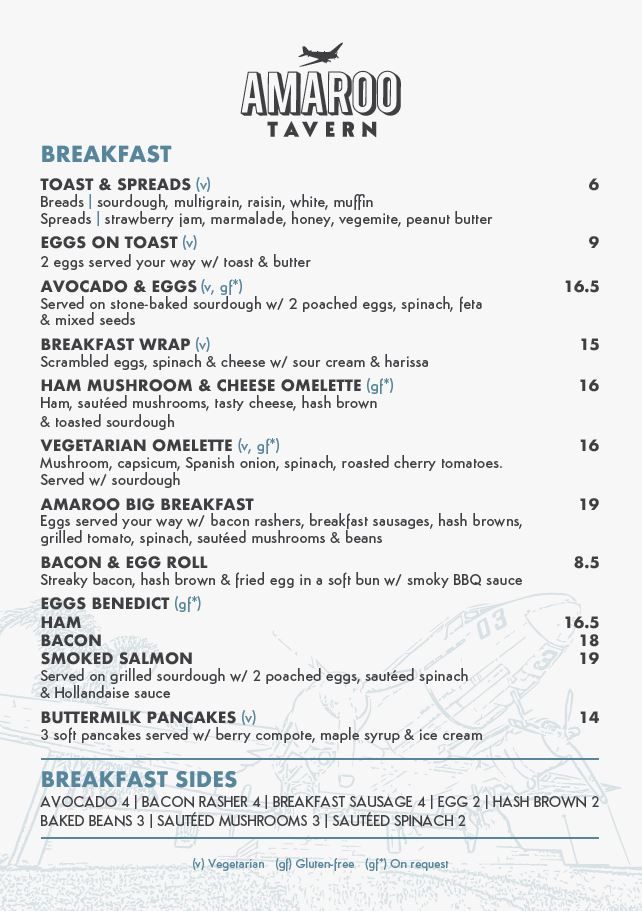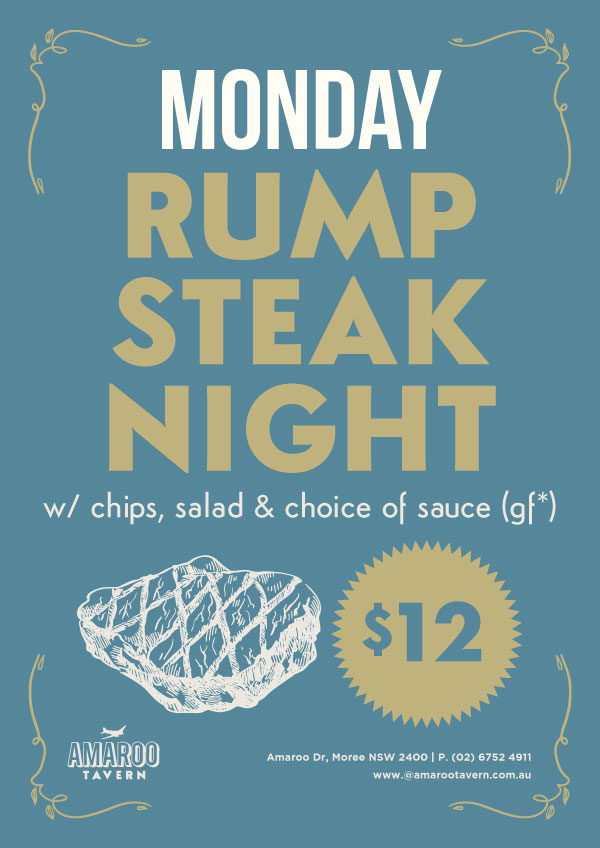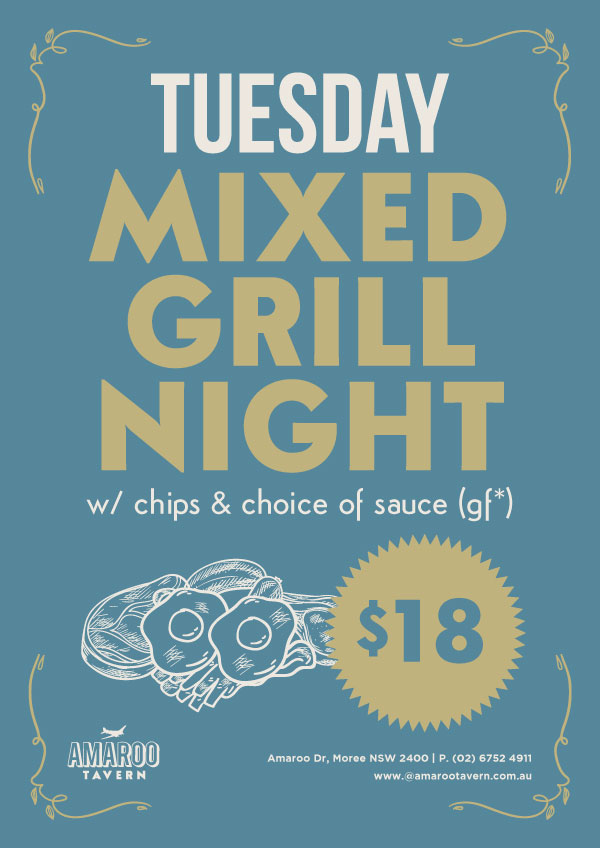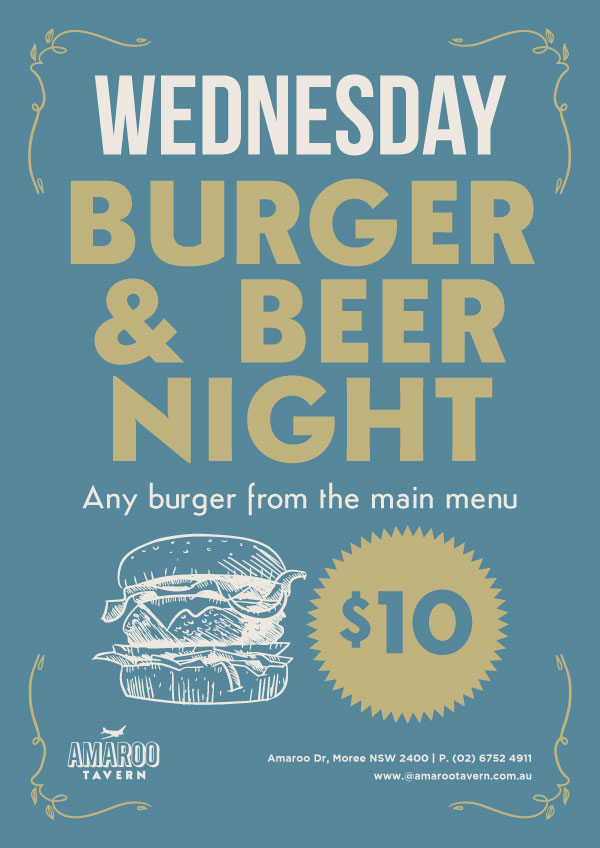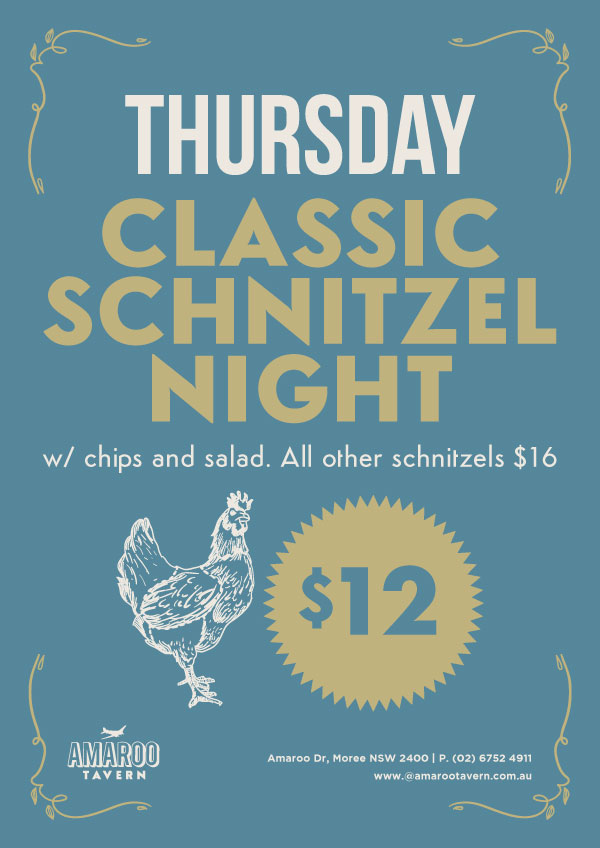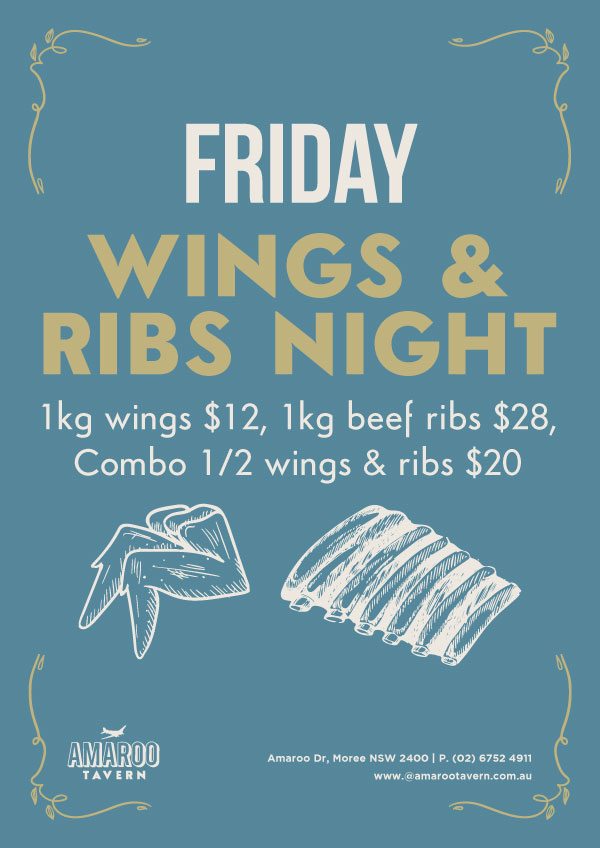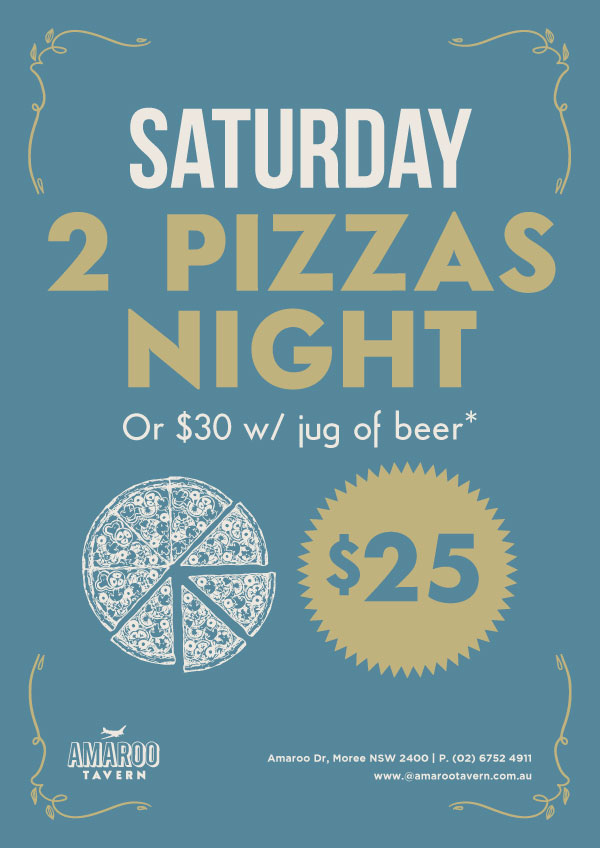 Family tavern, dog friendly, events & functions, live music, beer garden, breakfast, pub food, wood-fired pizza, live sports.
Monday: 10am - Late
Tuesday: 10am - Late
Wednesday: 10am - Late 
Thursday: 10am - Late
Friday: 10am - Late
Saturday: 9am - Late
Sunday: 9am - 10pm
KITCHEN 
Lunch: 12pm - 2.30pm
Dinner: 5pm - 9pm
Breakfast (weekend only): 9am - 11am



Amaroo Dr, Moree NSW 2400
P.
 (02) 6752 4911
E.
 info@amarootavern.com.au
Privacy Policy
Terms Of Use
Liquor License
We support the responsible service of alcohol and gaming practices.